Massimo's Italian Fallsview Restaurant
5875 Falls Avenue, Niagara Falls, ON L2G 3K7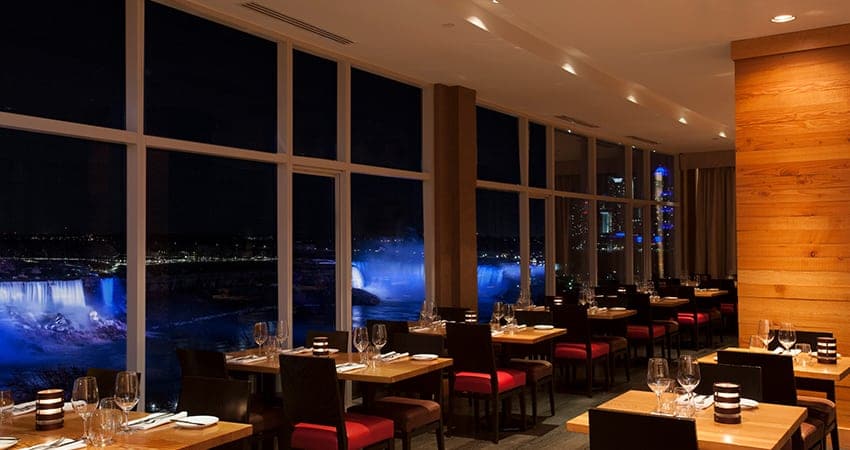 Massimo's Italian Fallsview Restaurant offers a modern and refreshing take on authentic Italian cuisine and the most spectacular views of Niagara Falls. Massimo Capra is one of Canada's most prominent chefs and Massimo's Italian Fallsview Restaurant reflects his distinct connection to both Italy and Niagara through a combination of classic Italian cuisine, fantastic wines, and high-quality, often locally-sourced ingredients.
Morton's Grille Niagara Falls
6740 Fallsview Boulevard Niagara Falls, ON L2G 3W6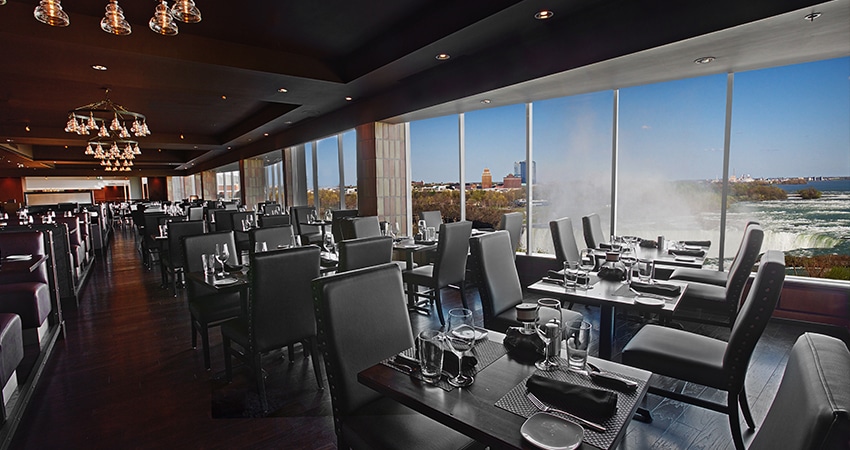 The perfect spot for a casual but elegant holiday party, Morton's Grille Niagara Falls offers a classic steakhouse menu and a fantastic view of the thundering Niagara Falls. Located inside the Marriott Fallsview Hotel & Spa, the restaurant combines savory steak and seafood dishes with an impressive selection of cocktails and wines, making it a fantastic spot for any corporate holiday party or event in Niagara Falls.
Prime Steakhouse Niagara Falls
5685 Falls Avenue Niagara Falls, ON L2E 6W7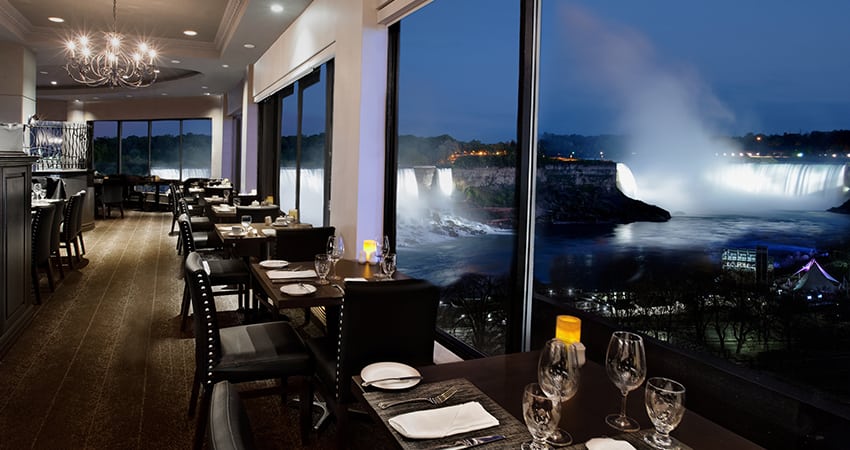 An inspired menu of prime steaks, fresh seafood, and other classic favourites is what makes Prime a standout on the Niagara Falls dining scene. And with hand-crafted cocktails and an extensive menu of local and international wines, Prime offers memorable Fallsview dining that's perfectly suited to your taste.
Fallsview Buffet
5875 Falls Avenue, Niagara Falls, ON L2G 3K7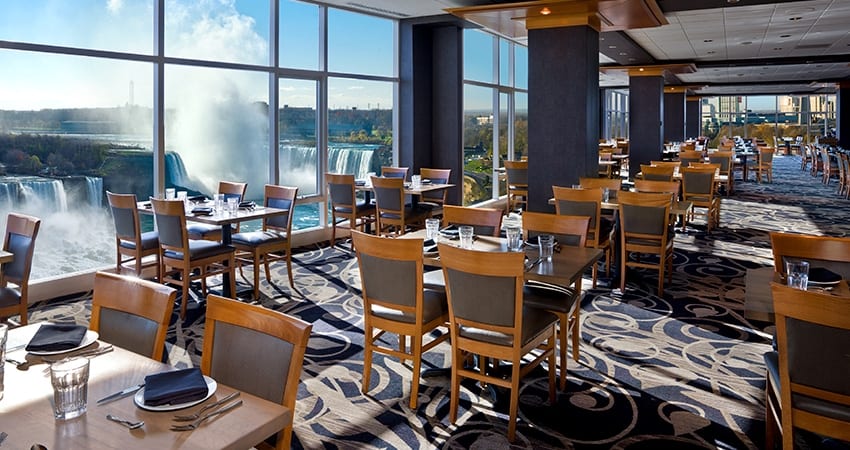 Come together this holiday season at Fallsview Buffet Restaurant and make it a meal to remember with incredible buffet dining, breathtaking views of Niagara Falls, and complimentary parking. Fallsview Buffet Restaurant is located on the dining level of the Sheraton Fallsview. Book early for the best available table.
Milestones Niagara Falls
6755 Fallsview Boulevard, Niagara Falls, ON L2G 3W7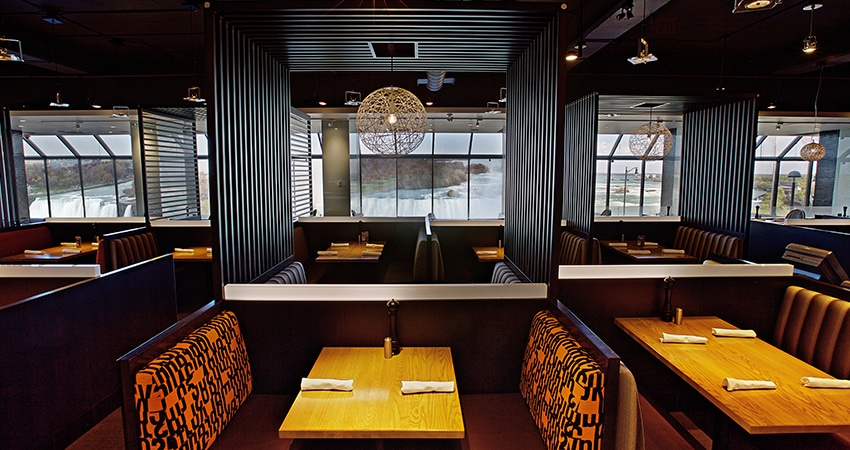 A contemporary eatery located inside the Marriott Fallsview hotel, Milestones on the Falls will make any holiday party into an unforgettable affair with diverse food and drink menus, a modern dining room, and direct views of Niagara Falls. From burgers and steaks to pasta and salmon, Milestones has something for everyone and is situated directly overlooking Niagara Falls so that every dining experience is something truly remarkable.
Niagara Distillery
4915-B Clifton Hill Niagara Falls, ON L2G 3N5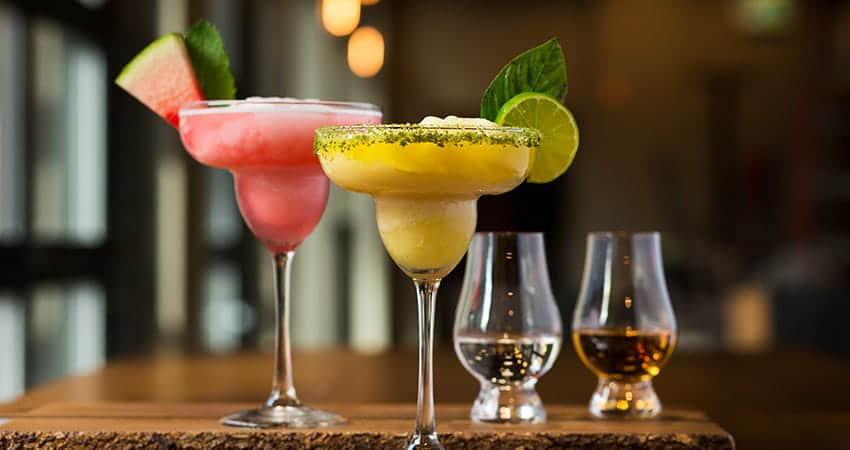 Raise team spirits with a holiday party at Niagara Distillery. Our newest venue offers signature spirits designed with flavour that can be enjoyed on their own or when mixed into a hand-crafted cocktail. To round out the experience, we've created a menu featuring award winning BBQ from competition favourite Billy Bones BBQ. This two-storey venue is ideal for celebrating the holidays with friends and co-workers while enjoying award winning ribs, tangy pulled pork, tender brisket and more.
Niagara Brewing Company
4915-A Clifton Hill Niagara Falls, ON L2G 3N5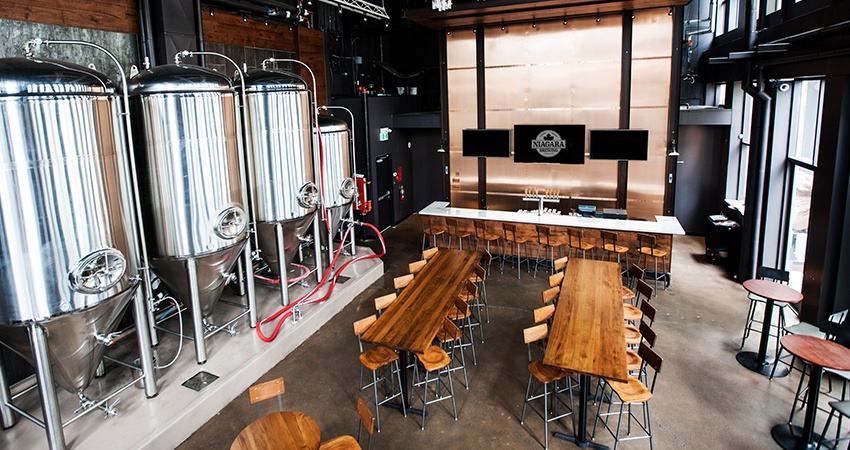 A new and noteworthy addition to Niagara's ever-growing craft beer scene, Niagara Brewing Company is a craft brewery located in the heart of the city's tourist district that offers an exciting range of signature and seasonal brews, tasty bites like sandwiches, pretzels and artisan cheese boards, and a cool and relaxing atmosphere. The brewery is the perfect spot for a laid-back holiday party, and with ample space and a range of delicious seasonal brews it's sure to get everyone into the holiday spirit.
Hard Rock Cafe & Club
5685 Falls Avenue Niagara Falls, ON L2E 6W7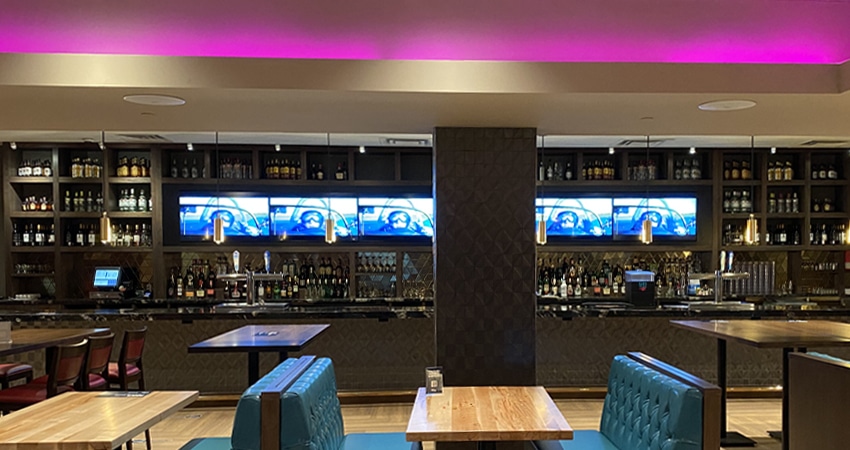 The Hard Rock Cafe is a rock & roll themed casual restaurant that features great music, delicious food and drinks, and an awesome club with a Fallsview dancefloor, amazing sound system, and the world's largest electronic disco ball. The Hard Rock Cafe is a top Niagara Falls destination that has everything you need to host a fun and thrilling holiday party.
Rainforest Cafe
5685 Falls Avenue Niagara Falls, ON L2E 6W7
Situated on Clifton Hill, just minutes away from the magnificent Niagara Falls, the Rainforest Cafe is a unique casual dining restaurant with a one-of-a-kind rainforest atmosphere. This family-friendly restaurant features remarkable decor, exceptional service, and lunch and dinner menus that offer delicious food and drinks that will be perfect for any family-friendly holiday event.